When I arrive at Bailey it's late, and dark, so I'm unable to appreciate the striking lime figure the site cuts against Cairns' mostly stark-white highrises. It's barely been open a fortnight at the time of my visit and my airport driver already refers to it as "the green building", and seems quite giddy by the addition. An instant icon, it seems.
It's soon apparent Cairns' newest five-star stay differentiates itself in several other ways, too.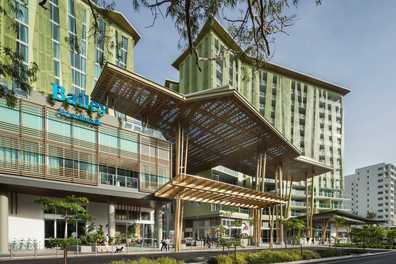 Bailey, the third Cairns offering from the rapidly expanding Crystalbrook Collection hotel group (you can actually see Bailey's older sibling venues, Riley and the soon-to-open Flynn, from the third-floor pool area), doesn't boast a glittering Esplanade perch, but happily the location is about as central as it gets — Cairns' famous man-made lagoon pools, ferry pier and a slew of waterfront restaurants and bars are all at your doorstep.
The hotel group's Syrian-born billionaire founder Ghassan Aboud saw an opportunity — a destination with no less than two UNESCO World Heritage sites and minimal infrastructure — and got to work.
Come one, come all
Accessibility was at the centre of Bailey's design. For this reason, both ground floor restaurants enjoy direct street access, nestled next door to the invitingly open (and cavernous) lobby. It gives each of the venues an independant feel, and locals are already lining up to sample the goods — a positive early sign.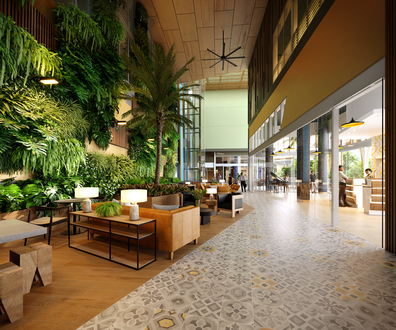 If the hotel's minty facade doesn't immediately disarm you, then surely its tropics-leaning sensibility will. This laidback, sometimes whimsical, aesthetic weaves its way into all aspects of the complex, making it feel significantly more family-friendly than your average art hotel. It was a welcome surprise.
A special mention goes to the Bailey in-room robe — snubbing the ubiquitous fluffy white number for a positively flamboyant gown, light and breezy enough to cope with that famous heat.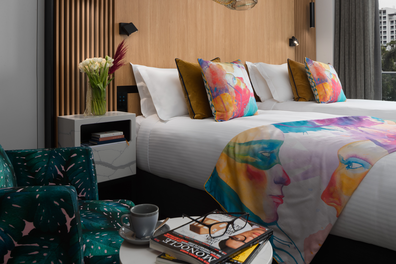 Art permeates the building, of course (duh, it's an art hotel), but not in that stuffy serious way. Striking pieces (set to change regularly) decorate the hallways of the 12 guest floors, a living wall forms its own masterpiece of sorts near reception, and a mosaic assembled from 500,000 individual pieces looms impressively above the main entrance — but it feels fun, relaxed and very Cairns. The hotel will also be hosting quarterly art initiatives.
Farm fresh
The concept of "farm to table" has no doubt lost a lot of its sheen after years of overuse. But how many hotels do you know that farm their own beef? Yeah, didn't think so.
The hotel's signature upmarket diner CC's Bar & Grill isn't your typical hotel steak house, in that they actually breed and tend to the cattle that are eventually served to their customers.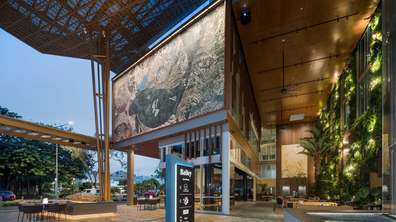 Astonishingly, Crystalbrook's founders are cattle farmers first, hoteliers second, and their namesake outback cattle station in the Tablelands supplies all their Cairns' properties with prime cuts. Crystalbrook Station, along with sister stations Silkwood and Menavale, oversee 4000 Brangus cattle (that's a cross between Angus and a Brahman). In Bailey, they age all of their cuts in-house, all proudly on show in glass display cabinets next to the kitchen.
CC's dinosaur-like Tomahawks and juicy T-bones are the talk of the town, but if you're a fan of the flavoursome aged cuts you'd do well snagging a rump, according to Bailey's chef de cuisine, Matthew Larter.
"The rump is the funkiest because it's not protected by the bone," he tells 9Honey when we catch him one morning. Supposedly, this makes for a more pungent meat, so only hardcore carnivores need apply.
The restaurant also works to source around 80 per cent of their produce from local suppliers within a three hour radius of the site.
Elsewhere guests can seriously treat themselves in dessert mecca Milk Bar, or just sip a Pisco sour and nibble empanadas by the pool at good-times Latin bar and diner Pachamama on level three.
The verdict
No, the water views aren't as bountiful as sister property Riley — but the group's most recent offering feels more family friendly than its waterfront counterpart.
An artwork-adorned grand piano in the lobby here, a milk bar peddling shakes crowned in fairy-floss there — the stay seems to reject the highfalutin fashionable traits we've come to expect from art hotels, in place of whimsy and old-fashioned fun. Teamed with the comfy perks and tech you'd come to expect from a newly-built five-star lodging, it's an optimistic sign of things to come in the rapidly developing city. Watch this space for Crystalbrook Collection No.3, Flynn, coming April 2020.
For information or bookings visit the website at crystalbrookcollection.com/bailey.
The writer stayed as a guest of the hotel.
Source: https://travel.nine.com.au/destinations/the-bailey-crystalbrook-collection-five-star-hotel-cairns-review/01da6655-e490-4723-9a21-b7f70bb674cb