The Port Douglas Marina development could start as early as this year according to Crystalbrook Collection's CEO and Ghassan Aboud, the investor behind the project.

Speaking in Cairns today, Crystalbrook Collection CEO Mark Davie and Mr Aboud said they are hopeful work on the project will begin before Christmas.
"At this point, we are quite well progressed with our planning for Port Douglas and we have been working with Council for more than six months on the project," Mr Davie said.
"We have ticked off all the boxes that tend to slow down the development application (DA) process and we will lodge the DA by the end of June."
Following a Q&A with media in Cairns, Mr Aboud and Mr Davie travelled to Port Douglas to meet with Douglas Shire Mayor, Julia Leu, to discuss the application.
Mr Davie said if the process continued to progress as it has and there are no hold-ups, ground-works can start before the end of the year.
"Following the development application process, we can pretty much immediately start on the demolition," he said.
"We have a lot to do preparing that land for the amount of construction to take place and we hope we can progress that a long way between now and Christmas.
"Allowing for time for demolition and then land preparation, actual construction can begin after wet season next year."
Mr Aboud said the project is expected to be finished early in 2022 and Mr Davie said April 2022 is the target date for the project completion.
This trip to Port Douglas is the first time Mr Aboud has visited the town and he said he is excited for the new development to be part of the town's fabric.
"I love the design," he said.
"It is really a piece of art and you will find it is very friendly for the local people in Port Douglas; we have kept working on this DA for over a year until we found the final solution everyone is happy with and that is the one I have approved.
"Today we will discuss it with the Mayor, Julia Leu, to see her reaction and the Council's reaction but we believe everything is good mostly."
Mr Aboud and Mr Davie are hopeful the development will revitalise Port Douglas and attract more tourists to the area.
"I really like Port Douglas, in the past it's been a very attractive and welcome place for tourists but in the last 10 years, it has not been so good," Mr Aboud said.
"We will try to get people back and make something really attractive for them in the facilities, service, and restaurants, and I believe this will help to wake up the town."
Mr Davie echoed Mr Aboud's words and said the Crystalbrook development will reintroduce Port Douglas as a premier holiday destination.
"We strongly believe Port Douglas 30 years ago was the place to go in Australia and it had the most iconic hotel Australia had," he said.
"As a destination, somebody had a dream to turn Port Douglas into an iconic five-star destination and then it died off, but, we don't think it deserves to die off, we think it deserves another injection of funds and a vision to bring it back to where it used to be."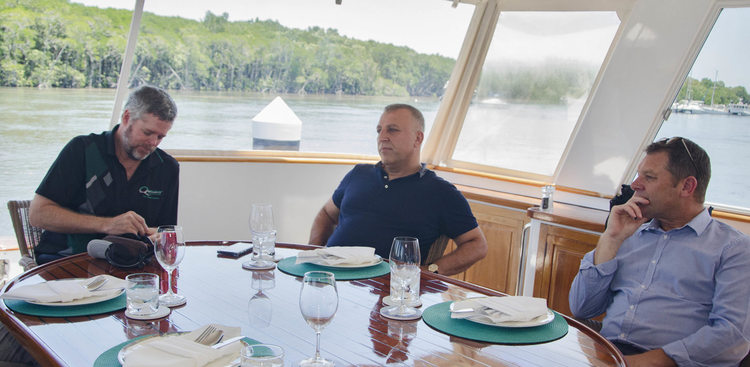 Douglas Shire Mayor Julia Leu said the meeting with Mr Aboud and Mr Davie was very productive and Council is feeling positive about the upcoming application.
"They have a really exciting vision for the Crystalbrook Superyacht Marina that has the potential to revitalise Port Douglas and stimulate the local economy," she said.
"We are particularly happy with their decision to support marina businesses during construction and create a vibrant area for the public."
Tourism Port Douglas and Daintree Executive Officer, Tara Bennett, said the development would provide a boost to tourism in the region.
"The Crystalbrook Collection marina development will be the most significant investment in the region since the Sheraton Mirage and is expected to have a similar impact of stimulating demand from high value travellers in both the domestic and inbound markets," she said.
"These travellers will seek out boutique travel experiences and help to drive growth in touring and all tourism related business in the region."
"While the Port Douglas region is highly regarded worldwide for the tourism experience, we lack hotel rooms due to such a high level of strata title properties built in the 90's and beyond.
"The planned Crystalbrook hotels will meet the gap we currently have for hotel rooms specifically."