CAIRNS, THURSDAY 21ST NOVEMBER 2019 – Crystalbrook Collection Founder Ghassan Aboud last night unveiled the Group's spectacular new hotel, Bailey, at an event filled with art, entertainment, sparkle and excitement.
Over 250 of Queensland's leading business people along with dignitaries, including The Honourable Annastacia Palaszczuk MP, Premier of Queensland and Mr Dave Stewart, Director-General, Department of the Premier and Cabinet for Queensland attended the event.
The opening celebration commenced with a Welcome to Country dance and smoking ceremony performed by Gimuy Walubarra Bunya Dancers followed by performances by more than 20 different artists including Japanese drummers, contortionists, a flash mob, roaming ballerinas and an opera singer.
"Bailey exceeds my expectations," said Mr Aboud. "I am honoured to have had such a wonderful selection of supporters attend Bailey's opening ceremony. The hotel really is a work of art and I look forward to seeing the hotel showcase partnerships with many more local artists. I want Bailey to be an ever-evolving every changing home for art in all its forms – this could be dance, song, painting, literature, jewellery design – anything is possible."
Premier Annastacia Palaszcuk said "Bailey is a stunning, job-boosting, new addition to the Cairns skyline and is Crystalbrook's second five-star hotel to open in the city in the past 12 months.
"In an incredible show of confidence in the Tropical North, by the end of 2020, the group's collection of properties will have added more than 800 hotel rooms to Cairns, creating 3,500 jobs and injecting more than $900 million into the local economy."
The evening concluded with an exclusive dinner at the hotel's signature CC's Bar and Grill, which showcases beef farmed at Crystalbrook's very own station, inland from Cairns. Championing local produce, the Group sources more than 80% of the produce served at all restaurants from within a three-hour drive of each hotel.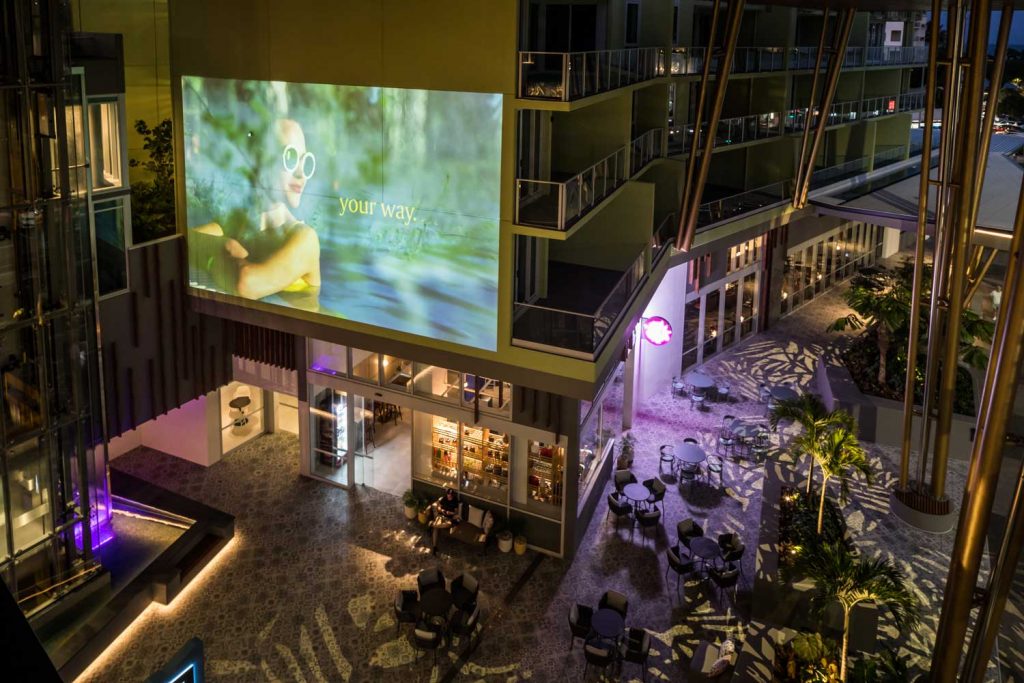 About Bailey, a Crystalbrook Collection Hotel
Bailey is located in the heart of Cairns cultural precinct and just a stone throw for the Esplanade boardwalk and lagoon, Bailey is adorned with Australian artwork and features 255 spacious guest rooms and residences, three restaurants and bars, meeting spaces for up to 150 people, a rooftop mezzanine plunge pool and a 24-hour fitness centre.
Bailey is the child of Crystalbrook Collection, an independent Australian tourism and hospitality company with a focus on innovation and sustainability. Crystalbrook Collection is reinvigorating the modern hotel experience while maintaining a distinct personality, sense of sophistication and responsible luxury.
Each of the group's six hotels and resorts draw inspiration from interiors, art, design, music, food and technology to create distinct and tailored experiences for its guests.
Bailey and the arts
Bailey's carefully curated personality is modern, innovative and with a true appreciation for all the arts. Bailey chooses the path less travelled. The type of character you'd find at the local farmer's market or exploring the latest museum exhibition. Bailey loves originality, individuality and attention to detail.
Bailey sees art as a powerful tool to break down barriers, provoke constructive thought, encourage empathy and question our own prejudices.  Creating a new cultural hub, Bailey will play host to an ever-evolving array of artforms across music, dance, painting, sculpture, literature and film to make art accessible, inclusive and empowering.
The hotel features dedicated art spaces in the public areas as well as celebrating a different artist on each of the 12 floors. As a Cairns local, the hotel may have a soft spot for arts from the region but those from further afield will also be celebrated.
Bailey will also host an ongoing art programme covering everything from evening workshops to poetry recitals, and dance performances; no area of the hotel is off limits. At launch, Bailey will partner with Mainie Australia, Cairns Indigenous Art Fair and TAFE to showcase the works of local artists and students with a programme of opening festivities.
Dining
Throwing down the gauntlet as the culinary destination for locals and tourists alike, Bailey will be a food lovers haven with an enviable selection of on-site restaurants designed to cater to any mood or occasion under the direction of executive chef Tyrone Hunt and chef de cuisine Matthew Larter.
CC's Bar and Grill
Drawing inspiration from Crystalbrook's own cattle station, three hours inland from Cairns, and the ruggedness of the Australian outback, CC's Bar and Grill is redefining the traditional steakhouse.
The stellar menu celebrates the best of Crystalbrook beef and Australian produce paired with fresh seafood, supplied daily by local fishermen. Of course, any meal wouldn't be complete without the perfect beverage companion. You'll be spoiled for choice with a selection of over 150 wines from around the world and cocktails as delicious as they are pretty.
Milk Bar
Serving up childhood favourites with a strong dose of nostalgia, this place revives the humble, suburban milk bar. Fondly celebrating the best of Australian heritage, you can expect to see the most creative, Insta-worthy culinary feasts in town. It's got bucket loads of personality, heart and exceptional food to boot.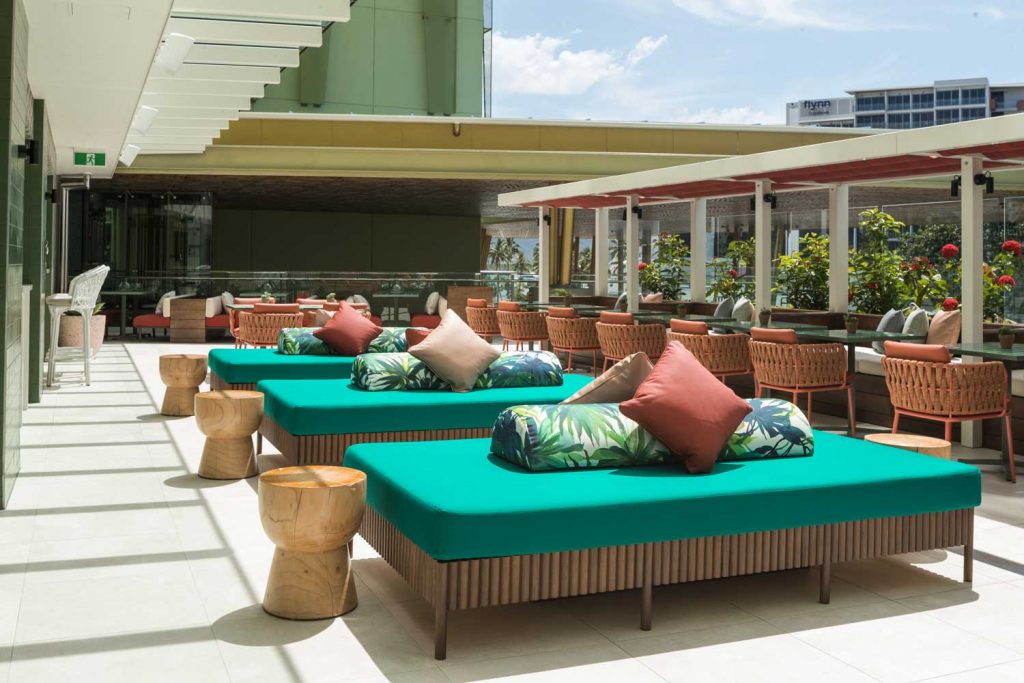 Pachamama
From Barcelona to Buenos Aires, Lisbon to Lima, Pachamama is a sophisticated and stylish fusion of Latin flavours that's as colourful, bountiful and passionate as Pachamama (Earth Mother) herself.See, be seen and celebrate with friends and visitors from near and far with a rooftop Caipirinha or a pre-dinner Pisco Sour, then embark on a culinary cultural journey.
The menu is jam-packed with flavour and deliciousness, letting authentic Latin influences shine through with every bite.