There hasn't been a new five-star hotel in Cairns for 20 years. Now there are going to be three within 18 months.
All thanks to a Dubai-based Syrian billionaire who holidayed in tropical North Queensland in 2016 and became so enchanted he invested a slice of his fortune in the region's tourism industry.
Muhammed Ghassan Aboud made his fortune from car franchises, real estate and retail but doesn't own a single hotel in the United Arab Emirates.
However, his company is transforming the Cairns skyline with three "sibling hotels". By 2020, it will have added 800 five-star hotel rooms to Cairns; made its 28-meter luxury charter yacht in Port Douglas profitable; and built a luxury hotel on its redevelopment of Port Douglas' superyacht marina.
Oh yes, and his group also owns a 35,000-hectare cattle station at Chillagoe, 215 kilometres west of Cairns. It was Aboud's first Australian purchase in 2016 and now houses Crystalbrook Lodge, a luxury retreat.
The cattle station inspired the name of Aboud's emerging Australian tourism empire, Crystalbrook Collection – which recently acquired its first property in one of Australia's big-five cities (the boutique Little Albion Guest House in Sydney's Surry Hills, which opened in July).
Meet the first sibling
Riley Crystalbrook is the first property in the group to entertain guests in Australia's "adventure capital". (Each of Aboud's new Cairns hotels has a "playful, genderless, sibling" moniker. The others will be Bailey and Flynn Crystalbrook, opening in 2019 and 2020 respectively.)
So how does the Crystalbrook concept stack up?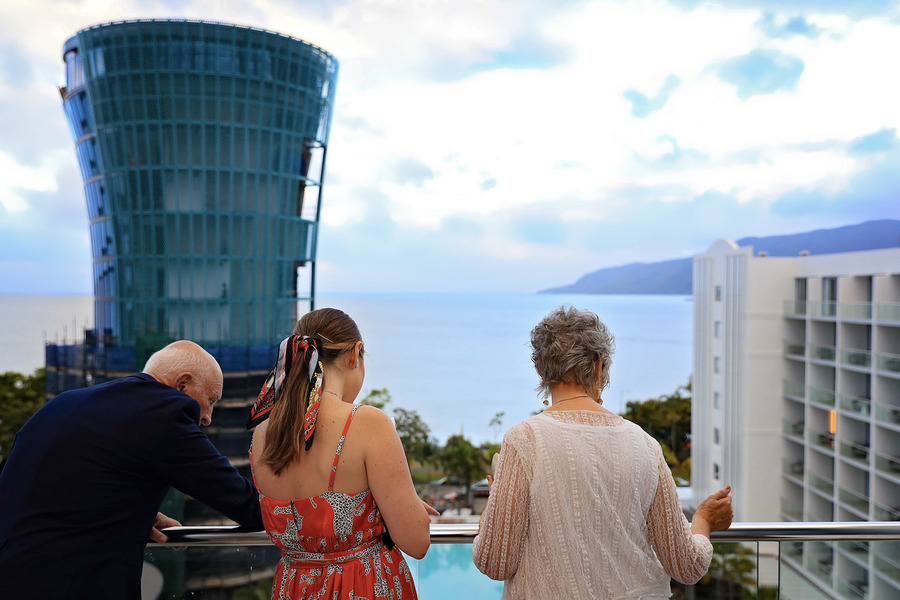 Frankly, it's too early for a definitive opinion. Riley has been open for less than two weeks when I arrive in mid-November, and there are obvious teething problems.
For example? Since all Crystalbrook beef comes from Chillagoe, I decide to eat steak at Paper Crane, Riley's Asian-themed restaurant.
Although I'm tempted by short ribs in Asian marinade ($48) or sirloin with Thai salad ($42), I opt for the Tomahawk steak with green papaya salad (market price), for no other reason that I don't know what a Tomahawk steak is. When it arrives, it's the size of a fireman's axe. Fortunately the marrow-infused meat has already been cut from the rib because it comes without a steak knife.
Apparently the knives, when they arrive, will be beautifully designed. But since "market price" later translates as $112, my very charming waitress borrows a steak knife from a neighbouring restaurant.
Is the steak well-aged, flavoursome, delicious, value for money? To paraphrase Meat Loaf, three out of four ain't bad.
(The waitress is full of praise, however: "We've never had a single guest eat a whole Tomahawk before!" She meant it as compliment, surely?)
Back to the teething problems. Neither the gym nor the spa is open because Riley's Olympic torch-shaped signature tower – with 55 suites all with uninterrupted views over Cairns harbour – won't be ready until Christmas Day.
Nor can I sample Greenfields, the cafe-cum-health food restaurant that will occupy the ground floor of the 12-storey tower. More annoyingly, I've arrived too early to eat at Rocco, billed by Crystalbrook as Cairns' first rooftop Mediterranean-style gourmet restaurant – complete with rooftop bar serving 60 cocktails and 200 "Champagnes".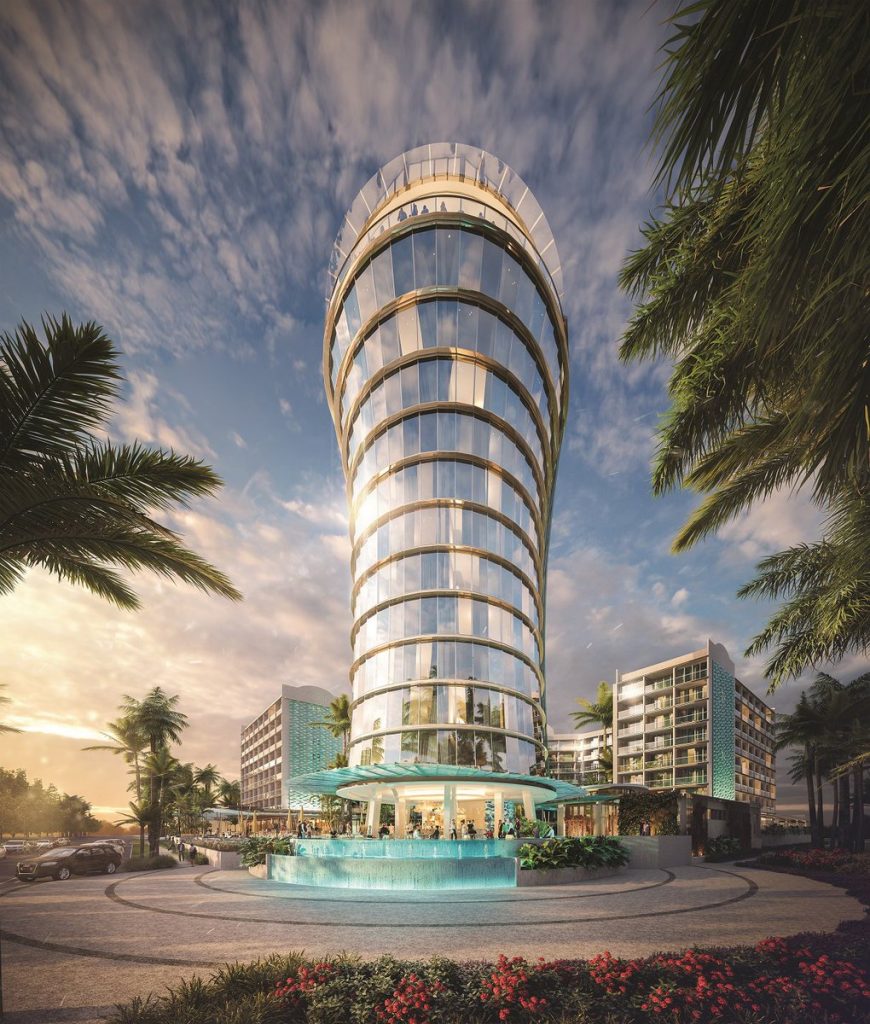 As I lie beside Riley's huge, sand-fringed lagoon pool (after taking a free bicycle for a morning workout along Cairns esplanade) I can watch the construction workers getting the tower ready for its grand unveiling.
If you've ever stayed in the old Rydges Tradewinds hotel, you won't recognise the place. My Aboriginal taxi driver puts it best: "It was tired, crap. These people took the building and stripped it back to the bone. They brought in these fancy architects and designers and transformed the place."
He's right. The new hotel lobby is like few others. Light, white, airy and friendly – with comfortable couches where (during my stay) guests are reading books, talking with friends or just chilling out in a communal surrounding, instead of being isolated in their rooms.
Talking about rooms, I'm in an oceanfront balcony room overlooking Cairns harbour. There's a huge bathroom (with walk-in shower for two and a deep, sculptured, free-standing bath).
High-tech diversions
Though I'm by myself, I haven't had time to explore the interactive entertainment choices. You can access all sorts of diversions from your own mobile or the Crystalbrook iPad in the room (if you know what Staycast by Google is). Apparently, it's similar to what you'd get in business class on the airline of your choice: up to 1000 movies, TV boxsets, music and games. And it's the way of the future.
But as I write this from my fourth-floor balcony on a stunning Sunday afternoon, I can see flocks of rainbow lorikeets flying past, and pelicans having picnics on the crocodile-ridden mudflat that masquerades as a beach. Reef boats are returning from their coral adventures. Helicopters land, jets take off while palms dance in the afternoon breeze. And humans of all shapes, ages and nationalities are walking, scootering and cycling along the esplanade.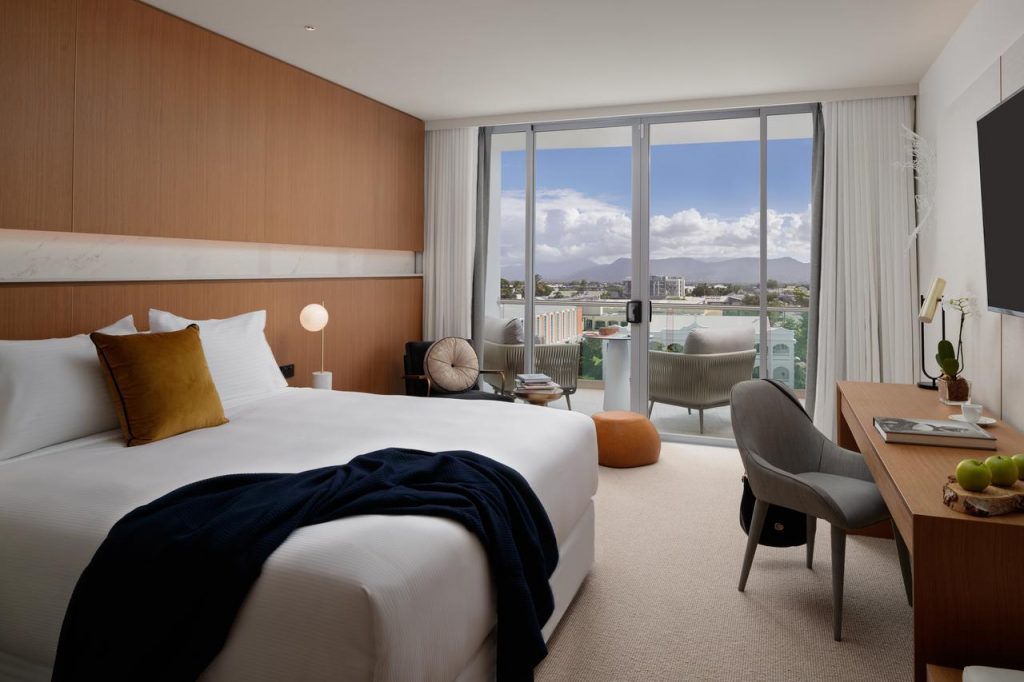 Please excuse me, but I have to join them.
The writer was a guest of Crystalbrook Collections.
NEED TO KNOW
Riley Crystalbrook 131-141 The Esplanade, Cairns. Tel (07) 4552 7777. Rates from $239 a night during the opening phase. See crystalbrookcollection.com/riley
Original Article: Financial Review