The Syrian businessman, Ghassan Aboud, topped two lists, the power 50 and the 10-influential, annually published by two Australian newspapers.
The Australian TropicNow magazine, issued in Cairns city, published the names of the top ten characters on their Power 50 List, and the names of the Cairns Post most influential list.
In a rare alignment between the two lists, Mr. Aboud ranked first in both, which "might be a slightly controversial choice given he doesn't live 'in Australia' and only visits a few times a year," according to the TropicNow.
TropicNow said that Mr. About topped the two lists as "his investment in TNQ is now soaring above half a billion dollars."
List evaluators think that Mr. Aboud has changed the whole area after he started investment in TNQ, influencing a real progress of Queensland business.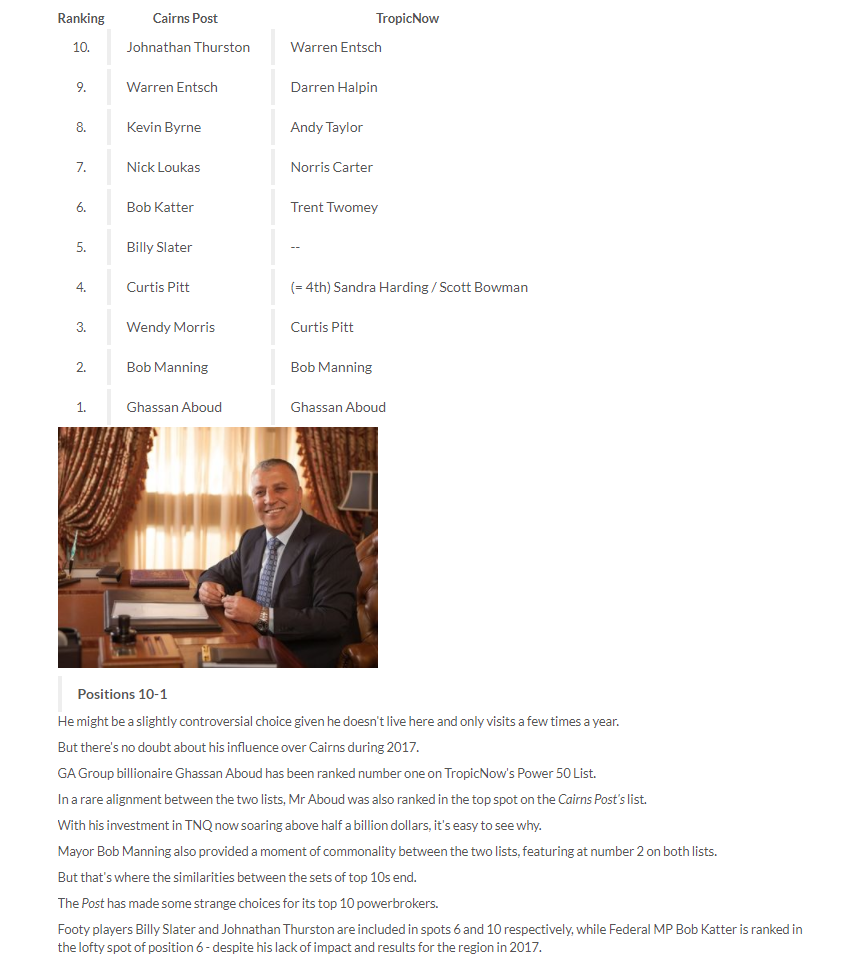 Like Mr. Aboud, Mayor Bob Manning provided a moment of commonality between the two lists, featuring at number 2 on both lists.
Footy players Billy Slater and Johnathan Thurston are included in spots 6 and 10 respectively, while Federal MP Bob Katter is ranked in the lofty spot of position 6.
Curtis Pitt was in the third spot, and university leaders Sandra Harding and Scott Bowman in equal fourth position. All three-delivered funding, projects and passion for the Cairns region during 2017, according to the magazine.
The TropicNow continues with business leaders Norris Carter (Cairns Airport) and Darren Halpin (Halpin Partners) in the 7 and 9 positions respectively, who were both excluded from the Cairns Post's top 10. TropicNow described Mr. Carter as "a sharp, smart operator delivering growth at our most important economic asset, while Mr. Halpin has been involved in everything from horse racing to golf courses, startups to politics."
Prime Group boss Andy Taylor was placed number 8 on TropikNow list, given his influence over hundreds of millions of dollars in contracts for the Crystalbrook Collection projects, also owned by Mr. Ghassan Aboud, while the Post failed to include him at all in its top 50.
Queensland… The Sunshine State
Queensland, a state in north east Australia, is the second biggest Australian state and the third with biggest population. The capital and largest city in the state is Brisbane, Australia's third largest city. Often referred to as the "Sunshine State", Queensland is famous for its warm tropical weather.
The state population reached 4 million by the end of 2005, where it is most rapid in population growth among other Australian states.