The Ghassan Aboud Group (GAG)—a multi-disciplined conglomerate founded in 1994—is embarking on a journey of innovation and entrepreneurship, with new concepts and companies forming into shape in various business sectors. Angelo Djaffardjee, CEO of Food Distribution at GAG, talks about the group's latest offering, BuyGro.
GAG is an international conglomerate with diversified interests across key industries including automotive, hospitality, real estate, retail, healthcare, logistics, pastoral, media, trade and distribution. The latest addition to GAG is BuyGro, an app that connects merchants and trade customers digitally, improving the reach and quality of offerings while reducing costs. Interested sellers can now start listing their products on the app for free and buyers can enjoy an improved shopping experience with a variety of options by downloading the BuyGro Marketplace app.
GAG focuses on the collective value of creation and growth, and has continuously sought creative solutions for arising problems. Since its incorporation, the group has spread its business operations across Asia-Pacific, the Middle East, Europe, and Africa. GAG launched several projects during 2020 in healthcare, trade and distribution to support the community, the latest being BuyGro.
The pandemic fuelled an evaluation of existing business models. One transformation caused by this black swan event was a new way of looking at distribution to traditional trade. GAG launched the BuyGro marketplace, which aims to disrupt traditional trade and set new standards, shifting the focus towards digital and assisting merchants and trade customers to grow faster and more sustainably.
The BuyGro team is directing its efforts towards digitally connecting brand principals, manufacturers, distributors, and wholesalers with retailers in need of their products. This is especially crucial as the pandemic worldwide continues to force distributors and retailers to consider cost reduction, efficiency and better service levels while maintaining rigorous safety standards.
The BuyGro Marketplace app is a one-stop-shop, with wide inventory visibility and a large market offering that provides over 6,000 grocery shops, cafes and restaurants with the flexibility and control needed to find new products for their shops. It is one of the most advanced apps of its kind in the U.A.E. and we are certain that it will be of great value for both independent trade buyers and distributors. The app closes all distribution gaps, it is cost and time saving, as well as easy to use with zero setup fees. The perfect tool for a successful trade experience.
When it comes to sellers, the app increases brand visibility, business opportunities, exposure to new prospects, as well as improves the seller's commercial and logistics costs. The app uses AI to provide data, stock, and market analytics​ for both parties allowing for informative and effective decision making.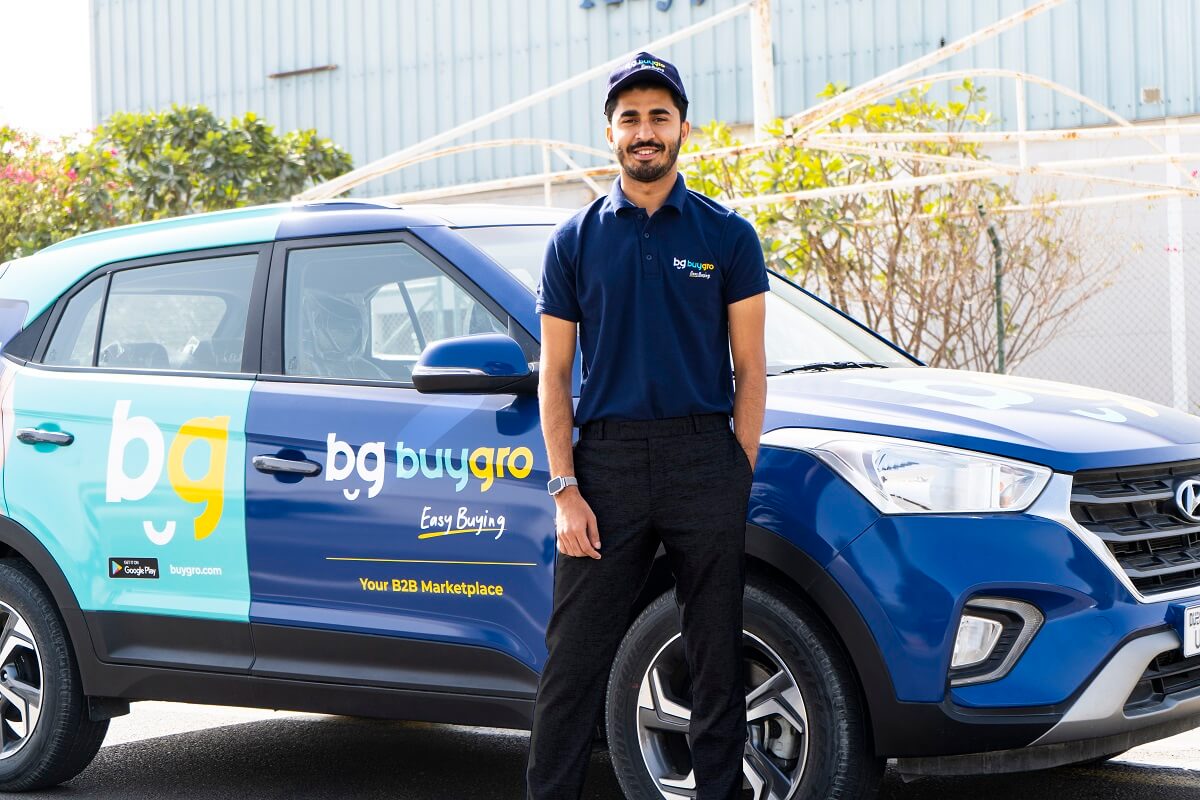 Image source: GAG
As market leaders in logistics, retail and food distribution, we thoroughly grasp the pain points of getting the right products at the right price. Deriving from both a place of need and knowledge encouraged us to create a compelling value proposition. Besides BuyGro, GAG's subsidiaries continually seek development and improvement, whether it be in creating a sustainable shopping experience at their retail stores, in water recycling and minimizing the environmental footprint of its logistics hub, in choosing local and digitalizing where opportunities arise.
Having the U.A.E. as its headquarters is an invaluable advantage and contributes to its strategy strongly. The U.A.E. has been ranked 34th globally and first regionally in 2020's Global Innovation Index, continuing to lead the region for the fifth consecutive year. It is an exceptional hub for businesses. The system is geared towards meeting all the needs of business owners looking to scale their products to the outside markets. This, alongside the entrepreneurial spirit of the community itself, makes the U.A.E. the perfect place to launch businesses.
The U.A.E.'s government has always fostered an innovative ecosystem. The country's overall business-friendly approach, alongside the continued growth of its presence both regionally and globally, is very appealing. It attracts businesses to set up regional operations to service customers locally, in the GCC and internationally. Innovation is part of the pillar of "United in Knowledge" in the country's Vision 2021, which focuses on building a competitive economy. As the country proceeds to increase its investment in entrepreneurship, GAG plans to play a key role in finding new solutions, innovations and discoveries that will significantly enhance the quality of life.
Source: Forbes Middle East